05.01.2016
Benchmark survey of the common plants in North-east of England to help biodiversity change monitoring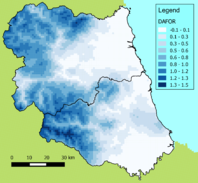 A recently completed benchmark survey of common plants provides a comprehensive dataset of vascular plant diversity and abundance in South Northumberland and Durham, contributing an additional 35,000 observations to the 200,000 observations collected by local recorders since the turn of the millennium.
Apart from contributing an updated inventory of vascular plant diversity, the survey is intended to be used as a reference point with which to identify change in the countryside and study the drivers of biodiversity change in the North-east of England.
Changes in the abundance of rare species have little impact on other species, but change in the abundance of common species can have cascading effects on whole ecosystems. The new survey provides a solid foundation that can be used to qualify the abundance of common species and compare against previous and future studies.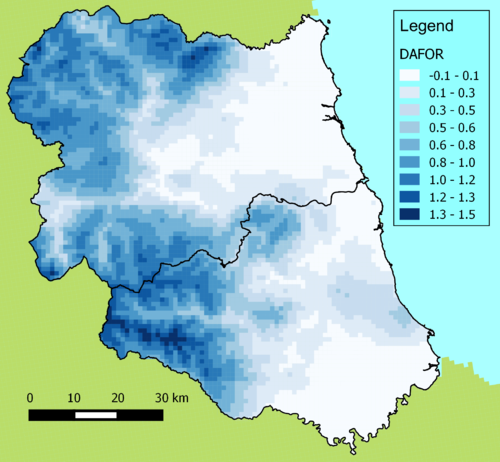 The distribution of heather predicted from the common plant survey data. This is one of the region's most characteristic species and one that many other organisms rely upon for food and cover.
The survey was part of the North-East Common Plants Survey Project, conducted over four years and required volunteers to go to various places. Some surveyed post-industrial brown-field sites, while others walked for miles across bleak moorland to reach sites high in the hills. Although these moors are arguably wilder and natural, the industrial wastelands turn out to be far more biodiverse.
Botanical surveying continues in the region despite the end of the project. Volunteers continue to monitor rare plants in the region and are currently working towards the next atlas of Britain and Ireland, coordinated by the Botanical Society of Britain and Ireland.
This survey is also among the first one to make use of the Integrated Publishing Toolkit (IPT) functionality, jointly developed by EU BON and GBIF, that allows the easy export and exposure of datasets to maximize their discoverability and reuse. The survey was published in the Biodiversity Data Journal, providing easy and streamlined publication of GBIF data via a variety of newly introduced plugins.
Original Source:
Groom Q, Durkin J, O'Reilly J, Mclay A, Richards A, Angel J, Horsley A, Rogers M, Young G (2015) A benchmark survey of the common plants of South Northumberland and Durham, United Kingdom. Biodiversity Data Journal 3: e7318. doi: 10.3897/BDJ.3.e7318

Print this article