09.12.2014 - 12.12.2014
British Ecological Society and French Ecological Society (BEsFE) joint 2014 annual meeting 9 – 12 December, France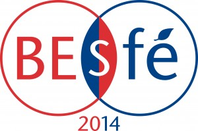 The British Ecological Society and the French Ecology Society are pleased to invite you to Lille for a joint conference which will bring together for the first time ecologists of our two countries. The aim of the conference will promote exchanges and debates on major advances in scientific ecology, and strengthen cooperation between the French and British researchers of tomorrow. The meeting will be held on 9 – 12 December at the Grand Palais, Lille, France.
The British Ecological Society and French Ecological Society invite proposals for symposia sessions at their 2014 Annual Meeting. Symposia sessions at the Annual Meeting highlight some of the most important and timely science in ecology. They provide the overarching structure and scientific focal point to the meeting.
The topics provide a showcase and forum for the discussion of key ecological questions, vision for the future and encourage integration among disciplines. As ever, timely and well organised submissions from across the breadth of ecology are welcome; however, building on the bi-national meeting and the introduction of the EU Horizon 2020 programme of research funding, we particularly encourage submissions that highlight international and EU focused topics:
• Agro-ecology and the CAP
• Biodiversity and ecosystem services
• Evolutionary ecology and disease
• Marine ecology and the EU Marine Directive
• Freshwater ecology and the EU Water Directive
• Horizon 2020 Tackling Societal Challenges: http://bit.ly/193Fbo3
The deadline for submissions is 31 January 2014.
The three full days of science can accommodate 18 half day symposia sessions. Symposia proposals should include one keynote speaker allocated a 30 minute presentation and then five invited speakers, each allocated 15 minute slots. Time devoted to synthesis and discussion is possible, but at the discretion of the organisers. In exceptional circumstances, we will consider a full day session.
Proposers are responsible for the speakers submitting their abstracts and registrations on time.
- See more at: http://www.britishecologicalsociety.org/events/current_future_meetings/2014-annual-meeting/
Contact information:
Amelia Simpson
amelia@britishecologicalsociety.org

Print this article