06.10.2014 - 17.10.2014
Twelfth Meeting of the Conference of the Parties to the Convention on Biological Diversity (COP 12)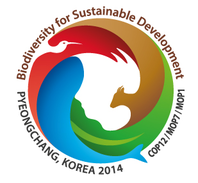 The Twelfth Meeting of the Conference of the Parties to the Convention on Biological Diversity (COP 12) will take place from 6 to 17 October 2014 in the Alpensia Convention Center, Pyeongchang, Gangwon Province, Republic of Korea.
The theme of the conference will be "Biodiversity for Sustainable Development":
- To raise international awareness about the essential role of biodiversity and its contribution to sustainable development.
- To put strong emphasis on biodiversity at the discussions of Post-2015 Development Agenda and setting of Sustainable
Development Goals (SDGs).
Contact information:
Organizing committee
info@cbdcop12.kr

Print this article