18.09.2013 - 20.09.2013
Conference: Adapting to Global Change in the Mediterranean hotspot - AGCM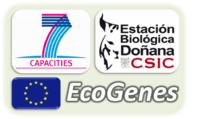 The Conference "Adapting to Global Change in the Mediterranean hotspot - AGCM" will be held in Seville, Spain on 18-20 September 2013. The conference is organised by Donana Biological Station (EBD-CSIC) within the FP7 funded EcoGenes project. Its main purpose is to explore and gather a variety of independent research threads to reveal overall patterns on how the world around us is changing and the many ways different organisms respond to that change.
By bringing together researchers who investigate various aspects of this global change and the way individuals, populations and communities respond to it, and who employ a wide variety of experimental and theoretical tools, the conference aims at hope to make intellectual progress on particular issues and move research in the area forward.
The specific themes that will be addressed are:
Phenotypic responses to global change
Breakdown of species boundaries
Emergent diseases in changing environments
Responses to past global change
Adaptation and speciation in response to changing environments
Biological invasions: from species adaptation to ecosystem responses
Monitoring ecosystems responses
Consequences of global change in biotic interactions
Population responses to global change
AGCM is by invitation only regarding speakers; however participants are invited to submit a proposal for posters.
Poster submission deadline: 17 July 2013
Registration Deadline: 6 September 2013
For more information visit the AGCM website: http://ebdecogenes.ebd.csic.es
Contact information:
Giulia Crema - Secretariat
giulia@ebd.csic.es

Print this article