22.02.2016
Interview: Clint Alibrandi from REDIAM on the benefits of an European Biodiversity Portal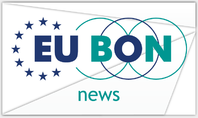 One of the main outputs of EU BON will be the establishment of an European Biodiversity Portal based on data collected and compiled from a variety of sources including earth observations but also observations and monitoring data from (local) sites. One of the main points of this portal is to serve as a substantial building block of a global biodiversity portal planned by the Group of Earth Observations project GEO BON.
But how will this portal be useful to stakeholders on a more local level - for example for people involved in questions connected to biodiversity across European regions? What will be the real benefits of it for biodiversity monitoring and conservation? Just a couple of weeks after the Third EU BON Stakeholder Round Table in Granada, Spain, Mr Clint Alibrandi from REDIAM (Environment and Water Agency in Andalusia) gives us his views on these questions.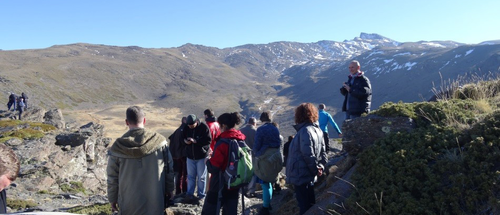 Picture: Excursion to Sierra Nevada.; Credit: Katrin Vohland
Q: REDIAM shares a mission with EU BON in its attempt to collect, standardize and distribute available biodiversity data. What will be the expected benefits and challenges in the process of making this type of datasets available for society and environmental policy?
A: Among the responsibilities of the Regional Environmental Government of Andalusia are promoting Social Environmental Awareness, Managing a vast, diverse and very complex territory, Control and Mitigate any threats posed to the fragile ecosystems present in our region as well as all the responsibilities derived from the management and planning of the existing natural resources.
Considering these facts, it is necessary to be able to account for the best environmental information available. Since the early 80's the Regional Environmental Government of Andalusia has been working on its Environmental Information System with the purpose of generating, compiling, standardizing and analyzing Environmental Information covering topics such as Climate, Water, Air Quality and Biodiversity by means of ICTs. This the REDIAM. The name comes from the Spanish Acronym "REd De Información AMbiental de Andalucía" which means the Environmental Information Network of Andalusia. It serves as a Unified Regional Environmental Information Registry.
From this effort, the information obtained by the REDIAM is made publicly available to be then employed in Decision Making processes and Management Planning on behalf of the Administrations, for Dissemination and Awareness as well as for Research purposes.
As such, it is of vital importance for the REDIAM to be able to account for updated and verifiable Information and Data Sources and this is what we consider to be the most important benefit on behalf of EU BON, as it will offer the possibility to have a higher level reference covering a larger perspective, allowing stakeholders, be it either from a local, regional or national level, to consult or work with data, tools and have reference to relevant policies concerning Biodiversity on the European scale in order to be able to better transpose them to a more local context.
Yet the greatest challenge we believe that EU BON might come to face is the fact that the different contexts that exist over the whole European territory make it very difficult to tailor tools and information formats which can cover the different priorities or needs that exist in the diverse makeup of stakeholders that exist from a local, regional and national perspective. The same can most probably apply to the feedback, queries or requests made to EU BON on behalf of the stakeholder and user community. It is never easy to reach a common base level and from the regional perspective, REDIAM has faced the same type of situations.
Q: What type of stakeholders do you hope to engage through your network - who is using your data and for what purposes?
A: The stakeholders which are currently engaged with the REDIAM consist in Universities, Research Centres, Public Bodies, Local Administrations, Private Companies just to name a few examples. There are over 150 organizations which are partners of the REDIAM, they provide relevant Environmental Information to the REDIAM and are responsible for updating the information.
And as can be expected,the information provided is as diverse as the makeup of stakeholders that are part of the REDIAM, with the following formats being made available: Cartography, Satellites Images, Databases, Reports, Statistics, Applications, Management Plans and Programmes, Orthophotos, Indicators, Studies.
Additionally the REDIAM offers the user community different alternatives in order to access the previously indicated information. The REDIAM Channel is a web portal with a Catalogue and Information Search System, OGC Services, Query and Viewer tools, Downloader. The user community is able to access its information and services. This community consists in Citizens, Universities, Public Administrations and Companies from the Public and Private Sector.
Q: Where do you see the cross section between REDIAM's work and EU BON - what are the products from EU BON and other European projects that would be helpful for the work that you are doing?
A: The REDIAM has great interest in the following issues and we believe that EU BON would be up to the task of providing solutions and/or guidelines on how to be able to proceed to solve them:
The elaboration of a common tool for the description and localization of species throughout the European Territory. This can prove a very useful service for Environmental Impact Assessments by providing a more complete view on different species distribution on determined area.
Defining a standardized list of species which contains the taxonomically correct name for each one of them. EU BON could serve as a base reference to set guidelines for standardizing the taxonomical classification of species.
Support and guidance in defining specific biodiversity indicators as proposed by EUROSTAT, a methodological and assessment guide of some sort.
Q: In your opinion what are the three greatest benefits of a European level biodiversity portal?
A: 1) Offering an opportunity of Standardizing and Harmonizing Biodiversity related information. We all speak the same "language" when referring to Biodiversity, but it is necessary that we all be able to follow the same "rules" as well. This is the first and most important pillar we believe that a European level Biodiversity portal can bring into play.
2) It would allow for and facilitate a widespread exchange of information amongst stakeholders throughout the whole European Territory.
3) And finally, it would allow a common analysis on a European level which would provide a general assessment on how different efforts and policies are effective, value which is the real status of Biodiversity and/or specific species independently from the limit of administrative or country borders.
About REDIAM:
The Environmental Information Network REDIAM has onboard experts from the Regional Ministry of Environment in Andalusia and its Water and Environmental Agency. With a team expertise ranging from local to regional and European level and from technical know-how to regional and thematic assessment, the main aim of the network is to integrate all spatially-referenced biodiversity data produced in Andalusia. Raw data are used to generate knowledge and improve its distribution, making it accessible and comprehensible for the general public.


Print this article