17.05.2016
We've been busy: EU BON discusses its Biodiversity Portal prototype & strategies for focused biodiversity data mobilization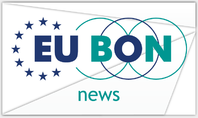 April proved to be an eventful month for EU BON, hosting the presentation of two major project results, not only within the same month, but in the course of one week. While CSIC and partners were launching the beta-version of the long-waited Biodiversity Portal in Seville, another EU BON team was busy to search for Integrated approaches for focused biodiversity data mobilization in Stockholm.
About the Portal:
In a dedicated session at the WP2 meeting in Seville, Spain, EU BON partners had the chance to view their work for the last couple of years materialising into one of the main expected project results - the European Biodiversity Portal. That said, what was then presented on 29 April is a beta version, with the final release of the portal planned to become available in early 2017.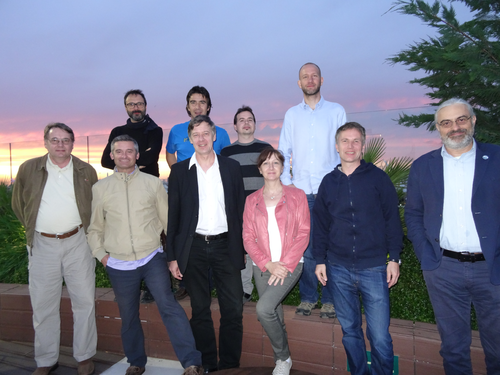 Participants at the Seville Workshop, April 2016. Credit: A. Hoffmann
Nonetheless, this beta version already addresses the main aim to offer a unique service for analysing and understanding biodiversity change in Europe. For instance, users can explore how relative abundance of species (within a larger group) changes over time by using big data mediated by GBIF. There is also a spatial browser for locating datasets in any part of the world, which may be usable for computing the EBVs for species populations.
Additionally, an online analytical data processing (OLAP) toolbox has been included in this release. Based on GEOSS technology, the new portal lets users harvest and simultaneously access data from several directories, including GBIF, LTER, EuMon (coming), PESI, and GEOSS sources.
This release also highlights the products of the EU BON project, including new methods and analyses packed in factsheets and infographics for the convenience of scientists and policy users alike. Explore the portal's beta version here.
Suggestions of how to develop the beta portal further towards the full release are appreciated. Use the feedback form at the welcome page.
Integrated biodiversity data mobilization:
It is a challenge for Bioinformatics group in Europe and around the world to find better ways to integrate different systems and technology. In EU BON's Task 1.4 the approach to solving this issue was to integrate different systems managing natural history collections and molecular data systems using the best techniques available.
In a dedicated workshop, which took place in Stockholm, Sweden, developers in the sphere of bioinformatics were presented with the project's Data Mobilization Toolkit. This particular workshop was mainly focused on Docker as a tool to move towards a more integrated environment. Docker has revolutionized system integration and in the workshop the Swedish team shared their experience with dockerizing the DINA-system.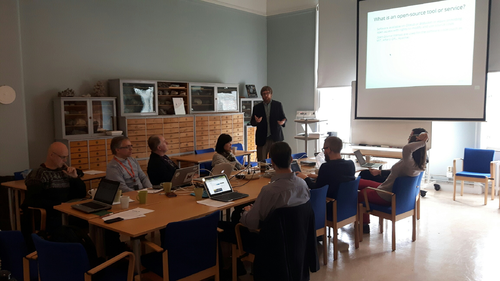 Discussions during the Stockholm workshop; Credit: Karin Karlsson
The workshop ended with a hackathon where they together explored the possibilities for using Docker in selected parts of integrating Pluto-F, JACQ and DINA.

Print this article