Spanish Council for Scientific Research (CSIC)
Doñana Biological Station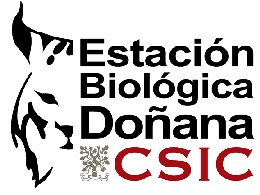 WHO WE ARE
The Doñana Biological Station is a public Research Institute belonging to the Spanish Council for Scientific Research (CSIC) in the area of Natural Resources. The Institute was established in 1964 and has about 300 employees. Its fundamental mission is to carry out multidisciplinary research of the highest standard directed to understanding, from an evolutionary viewpoint, the way in which biodiversity is generated, maintained and how it deteriorates, as well as the consequences of its loss and the possibilities of its conservation and restoration. An inseparable derivative is also to promote the transfer of this knowledge to society. The headquarters of the institute are located in the city of Seville. The two field stations: the Doñana Biological Reserve (pictured) and the Roblehondo Field Station are located in Huelva and Jaen provinces, respectively.
WHAT OUR EXPERIENCE IS
Plant-animal interactions, Evolutionary and Molecular Ecology, Conservation Biology and Global Change, Ecological Synthesis and Wetland Ecology are the main broad scientific areas where our research is centered at the moment. They build the conceptual skeleton of the Institute and are transversal to our administrative structure (Departments) and functional groups (labs). Our work in each of the lines is tracked annually following predefined scientific indicators (e.g. number and quality of our publications) and reviewed by an international independent panel every 4-5 years. The amount and allocation of resources depends on those evaluations. In the last evaluation, our institute was one of the five centers in Spain awarded with the Severo Ochoa, a distinction that recognize the best research institutes in the country.
WHAT WE DO IN EU BON
We will lead the testing and validation of concepts, tools, and services developed by EU BON. We will also assist to the definition of the ICT standards and architecture as well as developing the EU BON portal.
IN EU BON WE MAINLY CONTRIBUTE TO
WP 2 Data integration and interoperability
WP 5 (Lead) EU BON testing and validation of concepts, tools, and services
WE ARE ALSO INVOLVED IN
EURING
LIFEWATCH
EBCC
LTER
GBIF
---
Dr. Juan Jose Negro

Leading the project in the CSIC
Director of the Doñana Biological Station
Research interests: Evolutionary ecology and conservation biology mainly centred in birds of prey, a group of species with small population sizes and permanent conflicts with human ctivities

Mananging the project in the CSIC
Post-doc in the Doñana Biological Station
Research interests: Applied ecology and biodiversity conservation in different ecosystems, but mainly focused on farmed landscapes

Main responsible of gathering data bases on long-term monitoring
Senior Technician in the Doñana Biological Station
Research interests: Biodiversity Conservation and management with particular expertise in Ecology

Research assistance and link with other WP within EU BON
Researcher in the Doñana Biological Station
Research interest: Spatial ecology. Population ecology. Species ecology and conservation, Vulnerability traits