The Natural History Museum (NHM)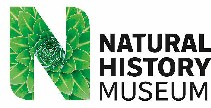 WHO WE ARE
The Natural History Museum, London, is one of the foremost natural history museums in the world, and has been called a 'cathedral to nature'. It is home to a collection of some 70 million specimens, from microscopic slides to mammoth skeletons, minerals and meteorites, which is studied and cared for by over 300 researchers and curators. It is one of the top visitor attractions in the UK, with more than four million visitors a year enjoying its world renowned public galleries, exhibitions and education programmes.
WHAT OUR EXPERIENCE IS
The NHM has extensive research capacities in the areas of taxonomic research, evolutionary biology, biodiversity monitoring and assessment and biodiversity informatics, as well as abundant experience managing a vast range of collections. The NHM and its staff provide technical advice and expertise to government agencies within and outside the UK, is a member of the consortium of scientific partners of the CBD and participates in international initiatives such as the Biodiversity Indicators Partnership and GEO BON.
WHAT WE DO IN EU BON
Contribution of biodiversity data and identification of gaps in coverage
Contribution of the assessment of integrated biodiversity data user/stakeholder needs, the needs assessment for political and conservation stakeholders and the provision of data for identification of biologically significant areas.
Europe-wide specimen data for several hundred plant species from the Sampled Red List Index for Plants to test automated modelling methods and detection of changes in remotely-sensed vegetation cover
Co-ordination of a species-based programme to complement the site-based network, through targeted fieldwork to collect abundance data for threatened plant species across Europe, through local participants and stakeholders;
Implementation of the Essential Biodiversity Variables approach to monitor European plant species
Production of a European Red List Index to monitor changes in status towards the CBD 2020 Aichi Targets
IN EU BON WE MAINLY CONTRIBUTE TO
WP 1 Data sources: requirements, gap analysis and data mobilization
WP 3 Improving tools and methods for data analysis and interface
WP 4 Link environment to biodiversity: analyses of patterns, processes and trends
WP 6 Stakeholder engagement and science-policy dialogue
WE ARE ALSO INVOLVED IN
BHL-Europe
GEO BON
SYNTHESYS
GBIF
DIVERSITAS
Sampled Red List Index
ViBRANT
Biodiversity Indicators Partnership
---
Dr. Neil Brummitt

Botanist; research interests: the distribution of and conservation priorities for plant diversity, at regional and global scales.
Leads plant diversity monitoring for Working Group 2: Terrestrial Species Monitoring of GEO BON
Helps co-ordinate the plant side of the IUCN Sampled Red List Index to monitor the status and trends of global biodiversity, which has undertaken over 4,000 specimen-based conservation assessments for a representative sample of plant species worldwide.

Cybertaxonomist and lice evolutionary biologist; research interests: biodiversity informatics applications to foster collaborative taxonomic research and open access data dissemination; lice phylogenetics and evolution.
Leader of the Scratchpads project and coordinator of the EU-funded ViBRANT E-Infrastructure.