University of Copenhagen: Natural History Museum of Denmark (UCPH)
WHO WE ARE
The Natural History Museum of Denmark (NHMD) is Denmark's national museum for Natural History and at the same time a department of the University of Copenhagen, Faculty of Science. There is about 50 permanent scientific staff and a large number of students, postdocs and staff working on various projects. The collections amount to ca. 14 mio specimens plus the living collection in the Botanical Garden. The museum has three overarching research themes: Origin and evolution of Earth and the solar system – Origin, evolution and diversity of the living Nature – Interactions between Nature and Man. Facilities include SEM and state-of-the-art molecular labs. The public exhibitions are visited by ca. 100.000 persons per year, and the museum engages in many other forms of outreach to schools, high-schools and the general public. The international secretariat of GBIF is placed at the museum which is also co-hosting the Danish GBIF node, DanBIF.
WHAT OUR EXPERIENCE IS
In addition to research, collections, and outreach the museum is involved in several international/ European collaborative efforts, including CETAF, SYNTHESYS and OpenUp!
WHAT WE DO IN EU BON
Assessment and evaluation of biodiversity data sources
Harmonization of European taxonomic backbone and analysis of taxonomic coverage
Integration of taxonomic backbone data
Integrated approaches for focused biodiversity data mobilization
Exploring citizen science – based approaches for mobilizing and generating biodiversity data
IN EU BON WE MAINLY CONTRIBUTE TO
WP 1 Data sources: requirements, gap analysis and data mobilization
WP 3 Improving tools and methods for data analysis and interface
WP 6 Stakeholder engagement and science-policy dialogue
WE ARE ALSO INVOLVED IN
CETAF
OpenUp!
SYNTHESYS
GBIF
---
Prof. Henrik Enghoff

Professor of zoological systematics and biogeography
Representing the museum in SYNTHESYS and OpenUp!
Research interests: taxonomy, especially of millipedes.

Entomologist, node manager and data curator of DanBIF
Research interests: Biodiversity informatics, solitary bee diversity, population ecology, behaviour, and taxonomy

Biologist, web editor and scientific communications officer at DanBIF
Web content and website management, science communication, social networking, conference organisation, biodiversity informatics

Collection coordinator
Data manager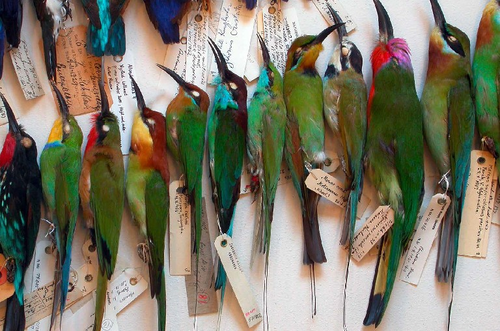 Photo: Mikkel Høegh Post